The Wise Woman's 7 Must-Do Summer Skin Care Tips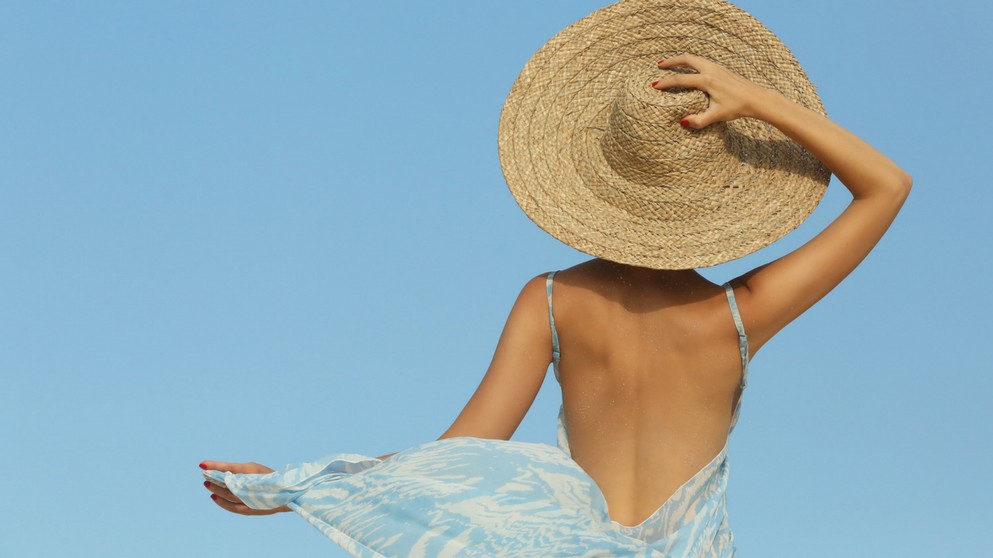 Ah, summer: sunshine, swimming pools, vacations, fun, sunburn… Sunburn? Yup. Unfortunately, enjoying carefree outdoor living doesn't always mean we remember to attend to the special needs of our skin during hot-weather months. But wise women take a little extra time each day to pamper their skin and keep it looking and feeling its best. Here are the wise woman's 7 must-do summer skin care tips:
1. Summer Skin Care: H20 from the Inside Out
Water is your bestest best friend all year long, but it especially is in summer. Carry a bottle with you wherever you go and drink as much as you can whenever you can. Drinking water keeps you and your skin hydrated in the heat and helps rid skin of toxins. Are you a caffeine fiend? Whether you're a coffee, tea, or diet cola fancier, keep in mind that these drinks are diuretics, so they don't "count" as summer skin care hydrators. Make up for your addiction by drinking even more water to help offset caffeine's effects.

Bottom Line: Hydrating from the inside out can give you a healthy glow and lessen the appearance of fine lines and wrinkles. Score! How much water? 8 glasses of 8 ounces each is still the recommended amount. Just remember 8x8!
2. Summer Skin Care: H20 from the Outside In
Shouldn't drinking water be enough hydration for summer skin care, you say? Nope. Listen, when it comes to water you can never have enough of this miracle liquid, whether it's on the inside or on the outside. Keep spritzer bottles in convenient places like in your car, gym bag, or office drawer. Yes, there are terrific hydrating products on the market like masks and toners, but nothing beats mineral water for keeping your skin moist, dewy, and cool in the hot summer months.

Bottom Line: Here's an essential tip if you're going to do a mineral-water spritz: a minute or two after applying, blot your face with a tissue instead of letting it dry on its own. This simple step keeps the water from evaporating, thus maximizing hydration.
3. Summer Skin Care: SPF Yourself, Then Do it Again
Much has been made of the benefits of using high SPF (Sun Protection Factor) skin products, and with good reason! But did you know that you should incorporate the use of these products year-round and not just as part of your summer skin care routine? Regular use of high SPF sunscreens and moisturizers is your first line of defense against the harmful effects of UV light even when it's winter, so pay attention to SPF labels when you buy. Most people don't apply often enough, so try to do it more regularly.

Bottom Line: How much SPF is good enough? According to experts, the higher number, the better—which makes sense intuitively, doesn't it? SPF 15 sunscreen blocks 93% of UV rays, while higher numbers block even more.

4. Summer Skin Care: Exfoliate
Summer skin care is all about getting and maintaining a natural, healthy glow, which is why exfoliating is an essential and wise step in your weekly routine. You're shedding skin cells quickly and they just sit on top of your skin, causing it to look dry, dull, and blah. The best way to get rid of those dead skin cells is to exfoliate. No matter your skin type, use a gentle exfoliant that restores luster without causing damage. When exfoliating your face, use products designed especially for that area for optimal results.

Bottom Line: How often should you exfoliate? One to three times a week is plenty. If you have sensitive skin, be sure to start off slowly to prevent excessive redness. Work the exfoliant into the skin in a circular movement, rinse thoroughly, and finish with moisturizer.
5. Summer Skin Care: Ditch the Tan
Why, oh why do magazines still glorify tanned skin? The general consensus in the medical community is that prolonged exposure to ultraviolet light is associated with an increased risk of melanoma. Whether you use an indoor tanning bed or spend too much time on the beach, you're taking unnecessary chances with your health and summer skin care—all for the sake of vanity. Cancer risk aside, UV exposure causes premature aging of the skin that no amount of creams, salves, lotions or potions can counteract.

Bottom Line: Tanning is so 20th century. If you really like the look, use self-tanning products like bronzers or get a spray tan. In 30 years (or 10, depending on your age), your skin will thank you for being a wise woman by not tanning.
6. Summer Skin Care: Rethink your Wardrobe
It's hot out and your instinct is to peel down to as few clothes as possible to keep cool. But less isn't always more beneficial to your summer skin care. Instead of the amount you're wearing, reconsider the fabrics you're choosing. Try wearing unbleached cotton or high-luster polyesters that reflect UV radiation and keep it off your skin. Clothes made with knits or tight weaves can also help prevent burning rays from reaching and damaging your skin. And the wise woman wears a wide-brimmed hat—always.
7. Summer Skin Care: Tend your Tootsies
It's time to be flip-flop-ready, so let's not forget about summer skin care for feet! It's important to remember that this hard-working area of the body can get sunburned too, so be sure to slather on the SPF liberally. Limit the amount of time you spend barefoot, since that encourages callus growth. Use a pumice stone on balls and heels of your feet regularly to keep calluses in check, and follow up with an emollient-rich cream, especially formulated for foot care. Your toes will feel and look so much better!

Bottom Line: If you're not sure about your own foot-care skills, why not invest in regular pedicures over the summer months? You'll feel more confident in your sandals and your feet will be healthy enough to keep up with your summer adventures.

Do you have other suggestions for summer skin care? Feel free to leave a comment and tell us what works for you!