Holiday Eating: Do You Know what's Hidden in your Food?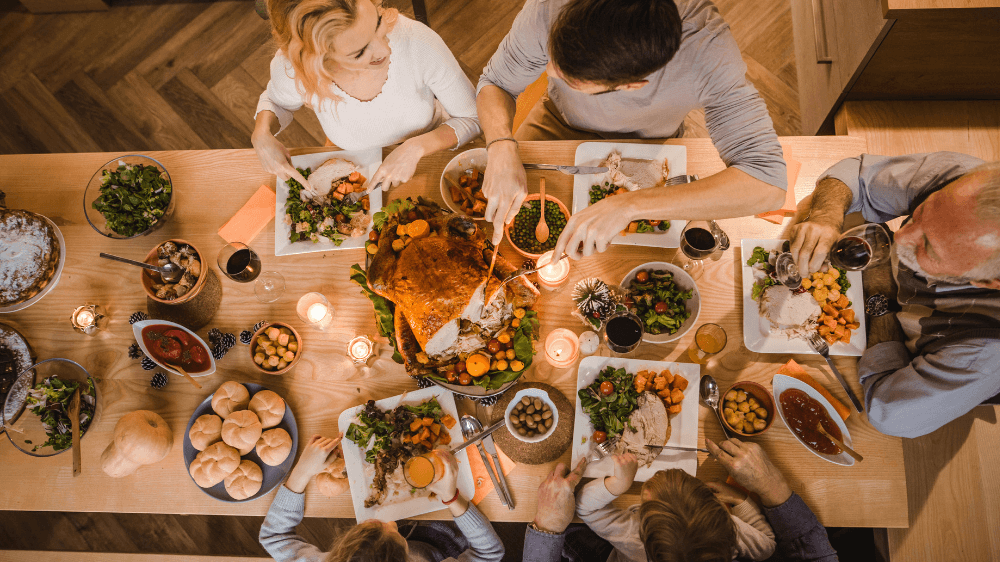 Holiday Eating: Do You Know what's Hidden in your Food?
It's that wonderful foodie time of year! With an entire month of feasting ahead of us, the temptations for indulging in delectable edibles are overwhelming. While the risk to our collective waistlines is obvious, the hidden risks of eating during the holiday season are sometimes harder to detect. Do you know what's hidden in your food? If you have food sensitivities or allergies, not knowing could be uncomfortable at best and dangerous at worst.
How do Potentially-Troublemaking Ingredients Hide?
At the Restaurant: Fast Food or Fancy
We live in a fast-paced society with lots of shortcuts. And one of the most popular areas for shortcuts is eating/cooking. In fact, as a nation, we eat out—on average—between four and five times a week. And when we eat out, we have very (VERY) limited knowledge of the ingredients in the food prepared for us or the environment in which it's prepared. The restaurant may voluntarily tell us it has a "peanut-free" preparation area, but it doesn't always let us know if a dish contains egg or an egg by-product. If you have sensitivities to common food allergens and enjoy eating out during the holidays and the rest of the year, it's wise to ask questions—whether it's fast food or fancy—and be sure to check a restaurant's website for additional information.
On the Grocery Store Shelf
Even if you do most or all of your own cooking and baking at home, chances are good you use prepared foods for your family's everyday and holiday meals. Although FDA-instigated improvements and requirements are regularly announced and implemented, it's ultimately up to the consumer to understand "label-speak" language on the packaging for prepared foods to make sure they don't contain an ingredient that can cause stomach upset (or worse!) in someone with food sensitivities. So make sure to scour the label for egg, soy, tree nuts, peanuts, gluten, etc., so you're armed with as much knowledge as possible before buying.
According to the Journal of Allergy and Clinical Immunology, "Another major problem is that a food may be listed on the product label by an uncommon term." So it's wise to be familiar with some of the less common monikers for potential Irritants. The internet is a great resource for this type of info. For example, here are some label ingredients that may indicate the presence of egg protein.
Knowledge coupled with vigilance is the best strategy to prevent buying the wrong prepared foods. Always, always (always) read labels and know what you're trying to avoid.
Remedies for Hidden Food Dangers
As has been mentioned, a solid education and being ingredient-aware are terrific ways to find hidden foods when you eat out or buy prepared foods. But really, the only way to be absolutely safe is to eat fewer processed foods and cook fresh whole foods at home. It's the best way to mitigate exposure to hidden food irritants as well as cross-contamination that can occur in restaurants and food-manufacturing facilities. Nutritionist Sonya Angelone, RDN, a spokeswoman for the Academy of Nutrition and Dietetics tells Everyday Health, "If you know what to do with fresh ingredients, it's not complicated to cook, and it's a lot simpler than reading food labels."
The Bottom Line
Holiday eating is one of life's great joys, and eating all year long can be too. But the rules for food selection are different if you or someone you love has food-sensitivity issues. A little common sense and creativity go a long way toward making food both delicious and safe for everyone. If you're not sure whether or not that tummy ache after eating is due to one or more food sensitivities, the HomeDNA Food & Pet Sensitivity Analysis + Report can help!
Where to buy HomeDNA Food & Pet
Pick up a kit at select CVS locations, ShopKo, any Walgreens location, or at your local independent pharmacy. You can also order online at HomeDNA.com.

Feel free to leave a comment and tell us what you think!