Your 2018 DNA Test Holiday Gift Guide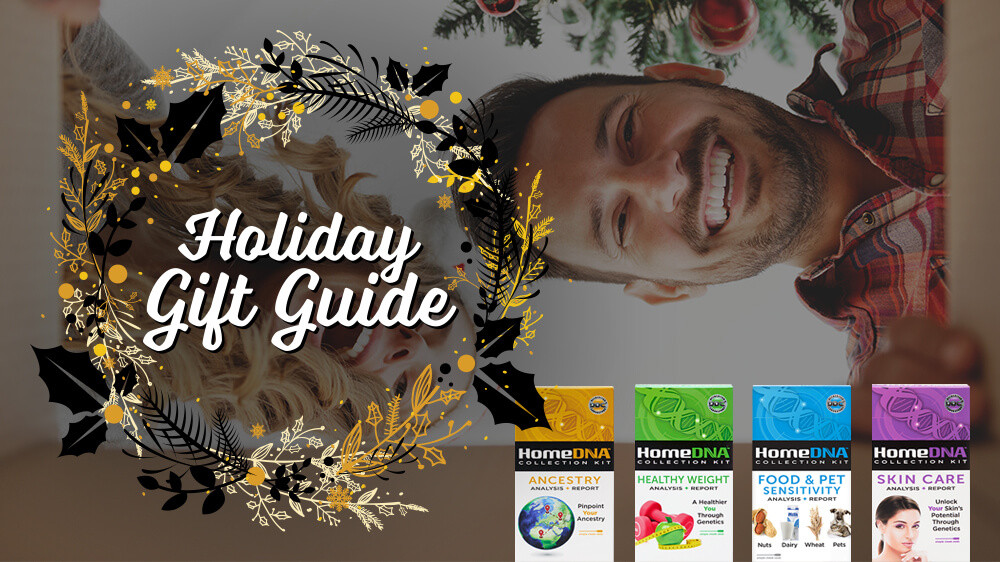 Your 2018 DNA Test Holiday Gift Guide
Everyone has that hard-to-buy-for person on their holiday gift list who delights in the unusual, unique, and fun. That's the kind of person who would really enjoy a DNA test kit as a gift—it's completely personal, totally useful, and it's definitely not something they're going to tuck away in the corner of a drawer and forget once the holidays are over! To make shopping a breeze, here's your 2018 DNA test gift guide.
The Gift of Family History
Knowing who we are by understanding where we came from is truly priceless; that's why DNA tests for ancestry have been such a popular choice for giving over the last several years—and in 2018 that trend is still going as strongly as ever. This type of DNA test as a Christmas gift (or Hanukkah or Kwanzaa or Festivus or "just because!") during the holidays is a heart-warming choice they'll love, and it's something people don't always think of buying for themselves! Every company offers something a little bit different in their ancestry-test results, so even if that person on your gift list has already done one, give them a different one this time—this way, they can continue filling in pieces of the puzzle about who they are to complete their ancestral family picture.
The Gift of Health, Beauty, and Wellness
Do you know someone who's interested in a healthier lifestyle? With an easy at-home DNA test as a gift, you can offer that person a closer look at the genetic factors that determine important elements of their health. These test results can provide a wealth of important and actionable information:
Specific ways in which genetics determine their response to different nutrients and exercise types as well as personalized suggestions for how best to achieve their ideal weight
Using information from DNA to help determine the best products, professional services, and supplements for younger-looking skin
A comprehensive DNA analysis of which foods may be causing discomfort in their daily lives and tips for how to mitigate symptoms, so they can enjoy a happier and healthier 2019
The Gift of DNA Testing for Pets
We all know someone whose pet is their baby, right? Why not give them a DNA test as a gift for both their furry friend and them? HomeDNA.com offers several high-quality choices for pet DNA testing. Every mutt lover gets asked: What breed is your dog? Help them find out their pooch's past and answer that perplexing question once and for all with the Mixed Breed Dog Identification DNA Test. You can also make the cat aficionado in your life purr with delight when you present them with a unique cat DNA test that screens over 40 genetic diseases and traits so they can keep their beloved meowzer happy and healthy.
Giving the Perfect Gift
The special people in your life deserve gifts that are as unique as they are. This Christmas and holiday season, consider DNA test kits as a fascinating way to give someone the gift of knowledge. HomeDNA has a wide variety of home DNA test kits that can help individuals delve deeper into who they are, where they came from, and how to use information from their genetics to live a healthier lifestyle.
Do you have questions about DNA test gifts? Feel free to leave a comment!